Microsoft offers certifications on server, desktop, application, database and developer platforms. This certification guide will help you get started with Microsoft's MTA, MCSA, MCSE, MCSD, Specialist credentials as well as MCT and MCE certs.
---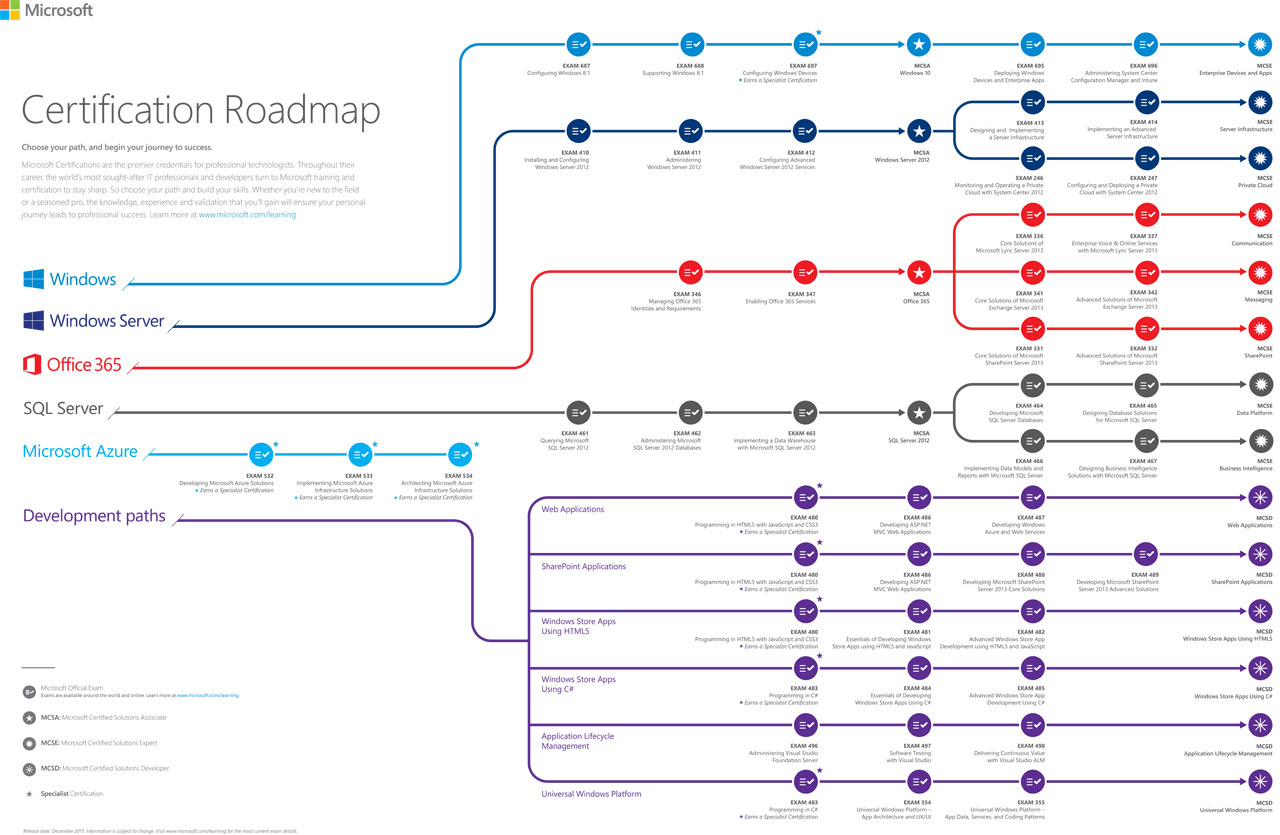 ---
Microsoft is best known for its Windows operating systems and Office software, but it has a much broader product portfolio that includes online services (Bing, MSN, advertising), gaming (Xbox 360), hardware (tablets, PCs, keyboards and mice) and more. The company also has a robust certification program that churns out qualified administrators and technicians to support its system and application products.


Achieving IT certifications through the Microsoft Certification Program shows a person's competence in a specific Microsoft technology, and it can result in all kinds of work-related and personal benefits. For example, studies show that IT certifications increase the chances of landing a job (or getting a promotion), and more than 80 percent of hiring managers report that IT certs are a medium or high priority in making hiring decisions.
---
Microsoft Certification Program Overview
Currently, the Microsoft Certification Program is divided into five main categories:
Server: Windows Server, Exchange Server, Lync (now focused on Office 365 and Skype), SharePoint and Microsoft Azure certifications
Desktop: Windows, devices certifications
Applications: Office, Office 365 and Microsoft Dynamics certifications
Database: SQL Server certifications
Developer: Visual Studio, SharePoint, Applications and Microsoft Azure certifications Certifications within the Microsoft Certification Program include the following credentials
Microsoft Technology Associate (MTA)
Microsoft Certified Solutions Associate (MCSA)
Microsoft Certified Solutions Expert (MCSE)
Microsoft Solutions Developer (MCSD)
Microsoft Specialist
Microsoft Office Specialist (MOS)
After you pass your first qualifying Microsoft certification exam, you are deemed a Microsoft Certified Professional (MCP). MCP status provides access to a benefits and exams dashboard, with certificates and transcripts, downloadable certification logos, promotional offers and lots more. You also get the MCP designation on your Microsoft transcript. It's important to understand that only the MCSA, MCSE, MCSE and Specialist certifications qualify as MCP certs. Neither MTA nor MOS certifications qualify for MCP status, and none of the exams are prerequisites for MCSA, MCSE, MCSD or Specialist certifications.
In addition to the certifications outlined above, Microsoft offers its MCT: Microsoft Certified Trainer and MCE: Microsoft Certified Educator credentials to those interested in teaching others about Microsoft technologies and products.
---
Microsoft Server Certifications
The Microsoft Server certification track includes MTA, MCSA and MCSE credentials. Within the MTA Server track there is one certification — namely, IT Infrastructure. To obtain it, a candidate needs to pass one of five exams, which cover topics that include fundamentals for server administration, networking, security, mobility and devices, and cloud.
The MCSA Server track includes Windows Server 2016, 2012 and 2008 and Linux on Azure certs. All the Windows Server tracks require three exams each. But only two exams are required for the Linux on Azure certification and the MCSA: Cloud Platform, each of which also serves as a prerequisite for the next item.
Until March 31, 2017, the MCSE Server track includes Cloud Platform and Infrastructure, Server Infrastructure, Private Cloud, Messaging, Communication and SharePoint. The Cloud Platform and Infrastructure prerequisites appear in the preceding paragraph. Server Infrastructure, Desktop Infrastructure and Private Cloud solution tracks take the MCSA: Windows Server 2012 as a prerequisite, while the Messaging, Communication and SharePoint solution tracks require the MCSA: Office 365 credential. Candidates must also pass one or two additional exams to earn an MCSE Server credential. Starting April 1, 2017, the only remaining item in this track will be the MCSE: Cloud Platform and Infrastructure.
---
Microsoft Desktop Certifications
The Microsoft Desktop certification path includes Microsoft Specialist, MTA and MCSA certifications. The Microsoft Specialist in Windows 10 requires passing one exam. The MTA Desktop certification path has one cert — IT Infrastructure — just like the MTA Server track mentioned previously. The MTA IT Infrastructure track is earned by passing one of five exams on Windows Server administration, networking, security, mobility and device fundamentals, or cloud.
MCSA Desktop certification includes a single credential for Windows 10 as of Jan. 1, 2017. Earning the MCSA: Windows 10 requires passing two exams.
Until March 31, 2017, there are two MCSE Desktop certifications. The MCSE: Enterprise Devices and Apps retires at that date. The other credential is the MCSE: Mobility, and it continues forward as the only desktop-related credentials thereafter. This requires earning the MCSA: Windows 10 plus one more exam.
---
Microsoft Database Certifications
Microsoft's Database certification path includes the MTA, MCSA and MCSE. The MTA Database track requires one exam. There are two certs in the MCSA Database track at the moment – namely, the MCSA: SQL Server 2012/2014 and the MCSA: SQL 2016, both of which require three exams. The newer credential is recommended for those just starting down the database trail, because the older is likely to retire in the next year or two.
The MCSE Database track offers three certifications as of early 2017: one newer credential is the MCSE: Data Management and Analytics, while two older ones are the MCSE: Data Platform and MCSE: Business Intelligence. The newer requires four exams (MCSA plus one additional), while the older ones require five exams (MCSA plus two additional). The two older credentials will retire on March 31, 2017, after which only the MCSE: Data Management and Analytics will remain available. My earlier recommendation for the 2016 MCSA applies equally to this situation, especially for those just starting after Microsoft's database certifications.
---
Microsoft Developer Certifications
The Microsoft Developer certification path includes MTA and MCSD certifications. The MTA Developer certification recognizes individuals who are entry-level software developers. The certification requires candidates to pass one of three exams. Possible topics include software development fundamentals, HTML5 app development fundamentals, and software testing fundamentals.
The MCSD Developer track has six certifications to choose from: App Builder, Web Applications, SharePoint Applications, Azure Solutions Architect, Application Lifecycle Management and Universal Windows Platform (UWP). All of those credentials except for App Builder are scheduled to retire on March 31, 2017. Thus, unless you're already working on one of the others and have time to finish beforehand, you'll want to focus on App Builder. It requires earning either the MSCA: Web Applications or MCSA: UWP as its prerequisite, followed by your choice of one exam from a list of nine possible options. (The SharePoint exams retire on March 31 as well.)
---
Microsoft Applications Certifications
Certifications in the Microsoft Applications track vary widely, from proving competency in using a single Office product to managing Office 365 services and user login credentials. This track is also fairly large; it includes an MCSA certification as well as the entire Microsoft Office Specialist (MOS), MOS Expert and MOS Master offerings.
The MCSA Applications track includes a single cert – the MCSA: Office 365. Two exams are required to obtain the credential. Microsoft offers a MOS Office 2016 certification for each Office application (Word, Excel, PowerPoint, Outlook, Access, SharePoint and OneNote). Office 2010 and 2013 credentials are still available, but unless you have a specific reason for achieving them, focus on Office 2016.
The MOS 2016 Expert certification identifies individuals with advanced Office skills and requires candidates to pass four exams. The MOS 2016 Master certification is the pinnacle of the MOS Certification Program and requires successful completion of six exams.
---
Microsoft Trainer And Educator Certifications
MCT: Microsoft Certified Trainer
Folks who teach others about Microsoft technologies and products should consider (and are often required to have) the Microsoft Certified Trainer (MCT) certification. The MCT can be obtained by submitting an application to Microsoft that proves that you hold a current Microsoft certification, one year of instruction experience (supporting reference required), plus verifiable instructional skills in the form of an acceptable instructor certification (such as CompTIA CTT+, Microsoft Certified Trainer Instructional Skills Certification (MCT-ISC) or IAMCT Approved Technical Trainer).
To renew, credential holders must possess at least one current Microsoft credential, meet the minimum instruction requirements of teaching at least one class, and maintain a Metrics that Matter quality score of at least seven. (Check the MCT website for a list of qualifying certifications and instructor certifications.)
As an MCT, you have access to the MCP benefits and exams dashboard, prep kits, the MCT community, Microsoft Online Labs and much more.
MCE: Microsoft Certified Educator
The Microsoft Certified Educator (MCE) credential is aimed at educators in academia, such as colleges, universities and training facilities. To become an MCE, you must demonstrate technology literacy through one exam.
The literacy competency is mapped to the UNESCO ITC Competency Framework for Teachers, Technology Literacy and includes education policy, curriculum and assessment, pedagogy, ICT/technology tools, organization and administration, and professional development.
Related Jobs And Careers
IT professionals who earn Microsoft certification often receive extra recognition from hiring and supervising managers, and enjoy improved on the job success and promotion opportunities. Companies that negotiate large volume purchase or subscription agreements with Microsoft (or its partner resellers) often include funding for official curriculum training and Microsoft certification exam vouchers as part of what's covered therein.
Here are how the various Microsoft certification areas shake out, job- and career-wise:
A Microsoft Server certification is ideal for the IT professional who designs, deploys, configures and/or manages a Windows Server environment, which may include various desktops and devices. Folks who achieve this type of certification work as systems administrators, systems analysts, technical specialists (often with a platform focus such as SQL Server, Skype for Business or Exchange Server), and the like.
A Microsoft Desktop certification is designed for those who deploy, configure and/or manage a Windows desktop environment and related devices, whether on-premises or in the cloud. IT professionals with this type of certification usually fill positions such as help desk technicians, support personnel and systems administrators, to name a few.
Of late, Microsoft Applications credentials have been gathering interest, coverage and momentum. People who pursue these certifications work with key windows platforms such as Office, Office 365 and Microsoft Dynamics 365, which covers CRM, ERP and more. They are usually responsible for making sure that rank-and-file employees are able to work effectively and productively, and that technology provides a boost to the bottom line.
Microsoft Database certifications cover a lot of ground. Database design, creation and maintenance are particularly important to organizations today, considering that data storage is key to most business computing, and nearly every website is supported by one or more databases running in the background. A database administrator is in charge of all kinds of database-related functions, from development, to storage and retrieval, troubleshooting and security. Now, Microsoft's database coverage also integrates business intelligence (BI) and Big Data/Data Analytics components, too, so IT professionals interested in these subject matters will find a lot to chase down and learn here, too.
Microsoft Developer certifications aim at application and mobile app developers who use programming languages and source code to create software. A developer may work independently or, more often, with a team, to develop, prototype, deploy, test and modify applications for computers and many types of electronic devices. This certification portfolio also includes development for Microsoft's cloud-based Azure environment, and for software lifecycle management as well.
Trainers (MCTs) and educators (MCEs) also play a vital role in the Microsoft ecosystem as well. MCTs populate the front lines of key training for IT professionals across all of its platforms, tools and technologies with an emphasis on cultivating workplace readiness and imparting skills and knowledge suitable for on-the-job deployment. Arguably, MCEs are even more important, by helping students at all levels of education – primary, secondary and beyond – to understand and make the most of Microsoft tools, technologies, platforms and development environments.
Training and Certification Preparation Materials
Microsoft offers training to candidates directly, both in the classroom and online. The company's Microsoft Virtual Academy (MVA) is a great place to start poking around: it offers a huge range of free training courses, many of them at least relevant to various certification topics if not directly focused on such topics.
There's also a huge aftermarket for Microsoft training, self-study and certification preparation. Pearson operates Microsoft Press on Microsoft's behalf, where you can find self-study guides for all of the popular Microsoft cert exams (and many of the not-so-popular exams as well). Pearson's IT Certification imprint (online at PearsonITCertification.com) also offers study guides, exam crams (a series I invented), practice tests, video training materials and much more for Microsoft certification candidates. Wiley/Sybex and Osborne/McGraw-Hill also offer certification focused imprints, book series, and generally provide good coverage of major cert topics as well, also including most popular Microsoft certifications and related exams. Pearson's mindhub online store also offers "official" practice tests approved by Microsoft.
There's a wealth of excellent material available to help candidates prepare. Look to online and peer reviews, study groups and ratings sites to separate the wheat from the chaff.
---
Microsoft
Exam
Title
 Price
063
Virtual Machine ALPHA-A
 4800
064
Cloud Service ALPHA - A
 4800
243
Administering and Deploying System Center 2012 Configuration Manager
 4800
246
Monitoring and Operating a Private Cloud
 4800
247
Configuring and Deploying a Private Cloud with System Center 2012
 4800
331
Core Solutions of Microsoft SharePoint Server 2013
 4800
332
Advanced Solutions of Microsoft SharePoint Server 2013
 4800
333
Deploying Enterprise Voice with Skype for Business 2015
 4800
334
Core Solutions of Microsoft Skype for Business 2015
 4800
339
Managing Microsoft SharePoint Server 2016
 4800
341
Core Solutions of Microsoft Exchange Server 2013
 4800
342
Advanced Solutions of Microsoft Exchange Server 2013
 4800
345
Designing and Deploying Microsoft Exchange Server 2016
 4800
346
Managing Office 365 Identities and Requirements
 4800
347
Enabling Office 365 Services
 4800
348
Managing Projects and Portfolios with Microsoft PPM
 4800
354
Universal Windows Platform – App Architecture and UX/UI
 4800
355
Universal Windows Platform - App Data, Services, and Coding Patterns
 4800
357
Developing Mobile Apps
 4800
383
Recertification for MCSE: SharePoint
 4800
384
Recertification for MCSE: Communication
 4800
385
Recertification for MCSE: Messaging
 4800
398
Planning for and Managing Devices in the Enterprise
 4800
410
Installing and Configuring Windows Server 2012
 4800
411
Administering Windows Server 2012
 4800
412
Configuring Advanced Windows Server 2012 Services
 4800
413
Designing and Implementing a Server Infrastructure
 4800
414
Implementing an Advanced Server Infrastructure
 4800
415
Implementing a Desktop Infrastructure
 4800
417
Upgrading Your Skills to MCSA Windows Server 2012
 4800
461
Querying Microsoft SQL Server 2012/2014
 4800
462
Administering Microsoft SQL Server 2012/2014 Databases
 4800
463
Implementing a Data Warehouse with Microsoft SQL Server 2012/2014
 4800
464
Developing Microsoft SQL Server Databases
 4800
465
Designing Database Solutions for Microsoft SQL Server
 4800
466
Implementing Data Models and Reports with Microsoft SQL Server
 4800
467
Designing Business Intelligence Solutions with Microsoft SQL Server
 4800
469
Recertification for MCSE: Data Platform
 4800
470
Recertification for MCSE: Business Intelligence
 4800
473
Designing and Implementing Cloud Data Platform Solutions
 4800
475
Design and Implement Big Data Analytics Solutions
 4800
480
Programming in HTML5 with JavaScript and CSS3
 4800
384
Recertification for MCSE: Communication
 4800
385
Recertification for MCSE: Messaging
 4800
398
Planning for and Managing Devices in the Enterprise
 4800
410
Installing and Configuring Windows Server 2012
 4800
411
Administering Windows Server 2012
 4800
412
Configuring Advanced Windows Server 2012 Services
 4800
413
Designing and Implementing a Server Infrastructure
 4800
414
Implementing an Advanced Server Infrastructure
 4800
415
Implementing a Desktop Infrastructure
 4800
417
Upgrading Your Skills to MCSA Windows Server 2012
 4800
461
Querying Microsoft SQL Server 2012/2014
 4800
462
Administering Microsoft SQL Server 2012/2014 Databases
 4800
463
Implementing a Data Warehouse with Microsoft SQL Server 2012/2014
 4800
464
Developing Microsoft SQL Server Databases
 4800
465
Designing Database Solutions for Microsoft SQL Server
 4800
466
Implementing Data Models and Reports with Microsoft SQL Server
 4800
467
Designing Business Intelligence Solutions with Microsoft SQL Server
 4800
469
Recertification for MCSE: Data Platform
 4800
470
Recertification for MCSE: Business Intelligence
 4800
473
Designing and Implementing Cloud Data Platform Solutions
 4800
475
Design and Implement Big Data Analytics Solutions
 4800
480
Programming in HTML5 with JavaScript and CSS3
 4800
384
Recertification for MCSE: Communication
 4800
385
Recertification for MCSE: Messaging
 4800
398
Planning for and Managing Devices in the Enterprise
 4800
410
Installing and Configuring Windows Server 2012
 4800
411
Administering Windows Server 2012
 4800
412
Configuring Advanced Windows Server 2012 Services
 4800
413
Designing and Implementing a Server Infrastructure
 4800
414
Implementing an Advanced Server Infrastructure
 4800
415
Implementing a Desktop Infrastructure
 4800
417
Upgrading Your Skills to MCSA Windows Server 2012
 4800
461
Querying Microsoft SQL Server 2012/2014
 4800
462
Administering Microsoft SQL Server 2012/2014 Databases
 4800
463
Implementing a Data Warehouse with Microsoft SQL Server 2012/2014
 4800
464
Developing Microsoft SQL Server Databases
 4800
465
Designing Database Solutions for Microsoft SQL Server
 4800
466
Implementing Data Models and Reports with Microsoft SQL Server
 4800
467
Designing Business Intelligence Solutions with Microsoft SQL Server
 4800
469
Recertification for MCSE: Data Platform
 4800
470
Recertification for MCSE: Business Intelligence
 4800
473
Designing and Implementing Cloud Data Platform Solutions
 4800
475
Design and Implement Big Data Analytics Solutions
 4800
480
Programming in HTML5 with JavaScript and CSS3
 4800
MB6-890
Microsoft Dynamics AX Development Introduction
 4800
MB6-892
Microsoft Dynamics AX Distribution and Trade
 4800
MB6-893
Microsoft Dynamics AX Financials
 4800